Local Fisherman's Market Food Tour
4.89 Stars and over 200 POsitive reviews on Air BnB Experiences
Kuromon Ichiba, also known as Kuromon Market, where food and food culture has been the focus for nearly 200 years. Unlike other covered shopping arcades, Kuromon's retro style transports you back to a past era where many of the friendly vendors are masters of their craft. This is a can't miss spot in Osaka, famous for being the kitchen of the nation.
What will we do during the Kuromon Market Food Tour?
You'll come hungry and you'll leave FULL, as you chomp down on 10- 13 different Osaka food specialties! 
Of course we can change some of the dishes to your liking!
This is an eating and walking tour where our goal is to have you try a variety of fantastic local foods in an authentic Japanese market. 
Dive into Kuromon Ichiba (Market) for a sensory experience of sights, scents, and tastes that come together fantastically to make sure you won't be forgetting Osaka anytime soon!
On this tour, you'll get to relish in the freshest and best local foods, ranging from first-class seafood, to sweets and tea.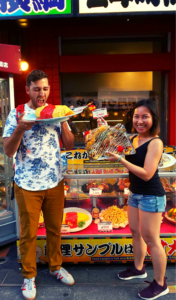 Guided english speaking tour guide
Seafood (sushi, sashimi, puffer fish etc)
Local Osakan dishes (eg. Okonomiyaki, takoyaki etc)
Savory Osaka Dishes (nori, roasted peas etc)
Desserts / sweets (mochi, warabi)
A sample of a traditional local tea
Environmentally-friendly souvenir chopsticks (please use during the tour)
*This is a 1hr 30min tour.
This tour is pescatarian-friendly, but not suitable for vegans or strict vegetarians.
Come with an empty stomach and an adventurous appetite, and we will make sure you won't be disappointed!
Must be open to trying seafood and new foods. If a particular food item on the itinerary is not available on the day of the tour, another item of equal value will be substituted.
The market is covered, and not affected by rain, so this tour will take place rain or shine.
Nipponbashi Station Exit #6
5 minute Walk from Namba Station
From Umeda Station, 13 minutes to Namba Station then 5 minute walk to Nipponbashi Station
Our professional guides have extensive knowledge of Osakan food, drinks, history and culture while adding a good dose of humour and personality to each tour