Hotspots and Hidden Gems of Osaka Tour
Inquire about Private tours:
(3hrs, 4hrs or 5hrs).
Group Tours only 3hrs.
4.89 STARS AND OVER 270 POSITIVE REVIEWS ON AIR BNB EXPERIENCES
We'll introduce you to the secret hotspots and hidden gems of Osaka, paired with stories about each and every one of them.
Get tons of recommendations of my favourite places to eat, and what else to see, so get ready to dive deep into Osaka-ben culture!
You will also get an insightful understanding of everyday Japanese customs, including topics that local guides may not be comfortable letting visitors know about, so please ask me any questions!
Slip through the non-touristy bar zones of Osaka, and even get a glimpse of a Yakuza clubhouse (it's safe and we'll just walk past it).
We'll check out a traditional food market where top chefs continue to shop at everyday (daytime tours only).
We'll contrast that by ducking into quiet cobblestoned back alleys to uncover a mystic temple and its centuries-old history.
Be prepared for a sensory overload as we navigate wacky larger-than-life billboards highlighting modern Japanese culture. You'll get to hear plenty of interesting stories about Osaka along the way & get some fantastic photo opportunities. 
On night tours, you'll be dazzled by the retrograde neon all over the city and the exciting nightlife that Osaka is so famous for. This tour is known for exposing the contrasting faces of Osaka!
The tour runs for 3 hours.
Wear comfortable shoes, be prepared for the weather, and bring a device to take photos if you so desire!
A light Japanese snack.
A hot or cold beverage
A detailed guide book for Osaka, Kyoto & Nara
A passionate tour guide ready for every one of your questions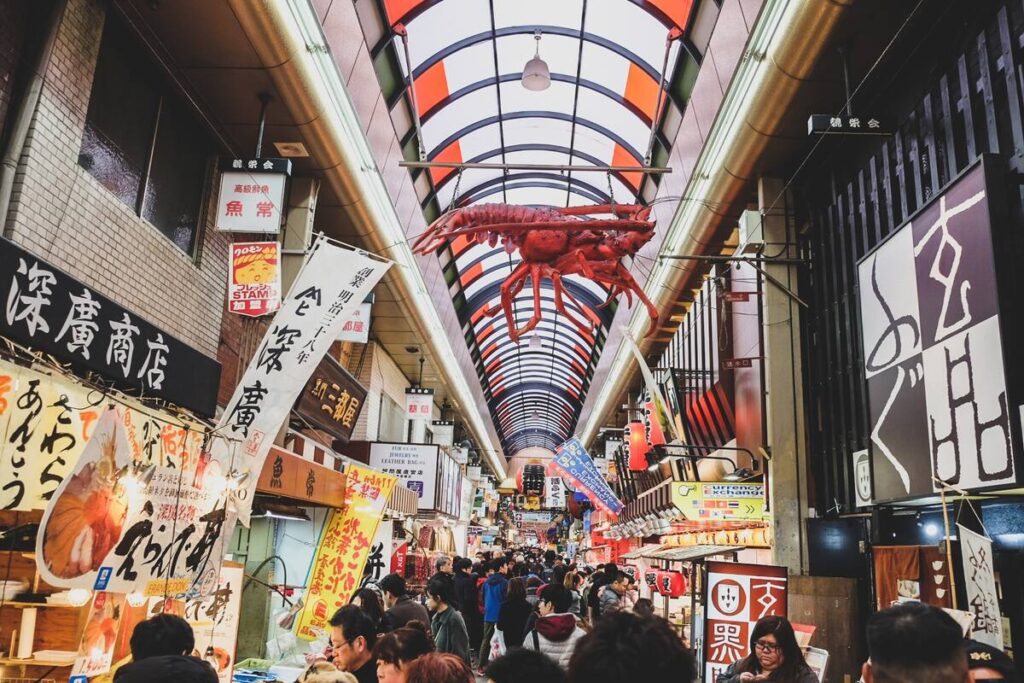 Namba Subway Station Exit #24, top of the stairs 
From Umeda Station, 10 mins
Our professional guides have extensive knowledge of Osakan food, drinks, history and culture while adding a good dose of humour and personality to each tour